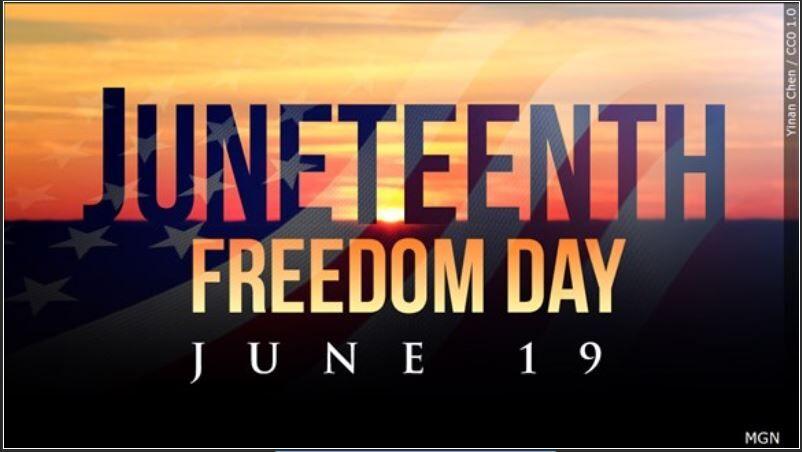 (WSIL) -- There are a number of events happening this weekend to mark June 19, also known as Juneteenth and 'Freedom Day'.
Juneteenth commemorates the day that enslaved Black Americans were emancipated thanks to the 13th amendment of the U.S. Constitution.
CARBONDALE
Organizers in Carbondale have scheduled a Juneteenth Freedom Parade for Saturday morning. The line-up begins at the Tres Hombres parking lot at 9am.
The parade starts at 10am with participants marching to James & Thelma Walker Avenue and proceed down Wall Street to Attucks Park.
The celebration will include food, music, games, dancing and a DJ.
MARION
The city of Marion will mark its third annual Juneteenth Celebration, hosted by Genext of Southern Illinois and the Boyton Street Community Center of Marion.
The two-day celebration begins Saturday at Pyramid Park with a cornhole tournament at 9am and festivities beginning at 11am until 5pm.
Activities at the Marion event include its first ever Juneteenth Jeopardy, a community kickball game and special guests. They will also provide free hot dogs for children and free bottled water for all. People are encouraged to bring lawn chairs and tents.
In Day two, there's a 3-on-3 basketball tournament happening at Jones Park on the corner of Gent Street and Monroe Street. Festivities will begin at 1pm until the tournament ends.
Music, food and drinks for this event will be free. The tournament has a $300 cash prize and an entry fee of $10 a player. Teams can have up to four players. The deadline to sign up is Saturday.
You can contact Genext.of.SI@gmail.com or call the Boyton Street Community Center at 618-997-1113 to sign up.
CARTERVILLE
John A. Logan College is hosting a Juneteenth event Saturday afternoon.
It begins at noon and goes until 3pm at the college's Waterfall Courtyard. Admission is free and open to the public.
Local food vendors will be on hand including John John's BBQ, Sidney & Solomon Foods and Cold-Blooded Coffee & Roastery. The college will provide several tickets to students and other guests for free food.
The Fabulous Phonics, considered southern Illinois' premier Soul, Motown and Jazz-Funk band, will perform at the college. Art, games, dancing, storytelling and poetry are other activities being planned.
Organizer Toyin Fox says the college wants the event to be a day of unity.
"We wanted to have a fun and relaxing event that promotes unity, diversity, inclusion, and freedom," Fox said. "We encourage everyone to come out for this community day, bring lawn chairs, tents, picnic blankets, and enjoy the music and entertainment."
SPARTA
The second annual Sparta IL Juneteenth Celebration concludes its two-day festival on Saturday.
The event, organized by the Sparta IL Juneteenth Foundation, is happening at the Sparta Fairgrounds.
Activities kicked off Friday with the first round of its 3-on-3 basketball tournament. The championship game is Saturday.
Saturday marks the event's 'Jubilee Day' which will be emceed by media professional Staci Static. There's also live music at the event with the Double J Band from Festus, Missouri taking the stage Saturday.
The Juneteenth Foundation is hoping to raise money to sponsor a HBCU College Bus Tour next spring for incoming 2023 minority high school juniors and seniors.
PADUCAH
The city of Paducah will have its first ever Juneteenth celebrations on the day after June 19.
It's happening Monday, June 20 at the Carson Center theatre & lawn. The event begins at 6pm and goes until 8pm. Tickets are $15. The ticket includes a reserved seat for the ceremony in the theater plus live music and a BBQ box dinner.
The city's garbage day will be moved to June 21.
METROPOLIS
The City National Bank of Metropolis says it will close its doors on Monday to commemorate June 19.
The bank says customers may utilize digital banking services and may use Paducah's First National Bank ATM at no extra cost.
It's one of a number of businesses that chose to close in observance of Juneteenth.