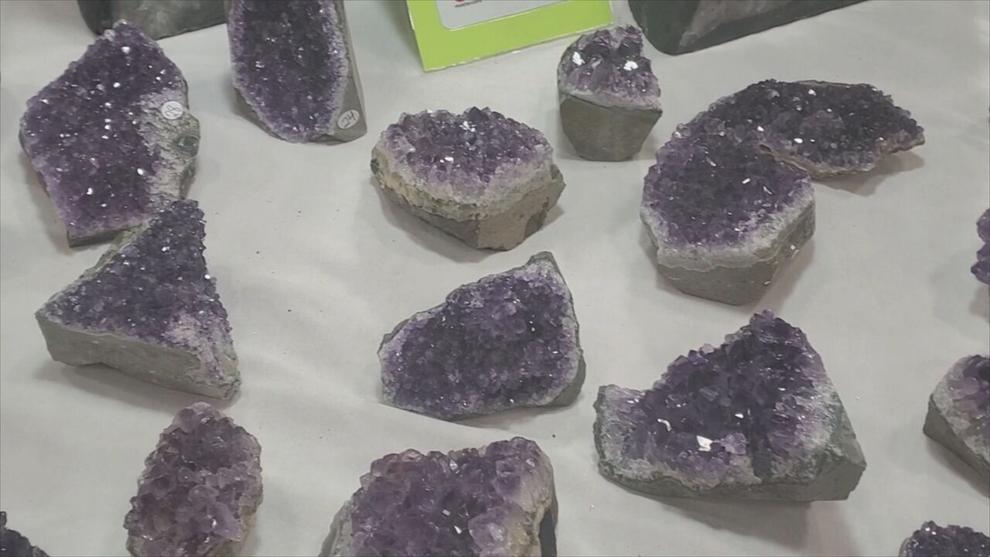 MARION, Ill. (WSIL) -- Thousands of years of geological history made its way to Marion this weekend for a showcase that attracts fans from across the region.
The annual Gem, Mineral, Fossil and Jewelry Show returned for two days and saw thousands of visitors flocking through the doors of The Pavilion to explore and purchase unique pieces of earth and jewelry.
It was the first show hosted by the Southern Illinois Earth Science Club since 2019 after the COVID-19 pandemic canceled shows for 2020 and 2021 according to show chairman Michael Chontophlasky.
"We're the only club show and only show I know of this year," Chontophalsky said. "Not only do we have the people but they're opening their wallets up they're buying rocks and fossils and minerals and jewelry."
The show also returned an exhibit of fossils from the Middle Tennessee Museum of Natural History including casts of a T-Rex skull. It's the only club-sponsored Gem and Mineral show south of Springfield, Chontophalsky says.
The family-friendly event saw a record turnout of more than 2,150 visitors and 500 children on Saturday. Chontophlasky says people come from all over the state and from nearby states as Kentucky and Indiana to see the show.
On Sunday, Brian Garrison and his daughter Daisy drove an hour from Woodlawn to see the show. Garrison says his daughter became interested in rocks after some trips to the west coast.
"One time we went to the Rocky Mountains and I saw all these cool rocks and it was just really fun," Daisy said.
Chontophlasky says proceeds from the event go back to the club, its sponsors and any graduate students using the club to gain experience in their field of study.
To learn more about the SIES Club you can visit www.siesclub.org or visit their Facebook page.