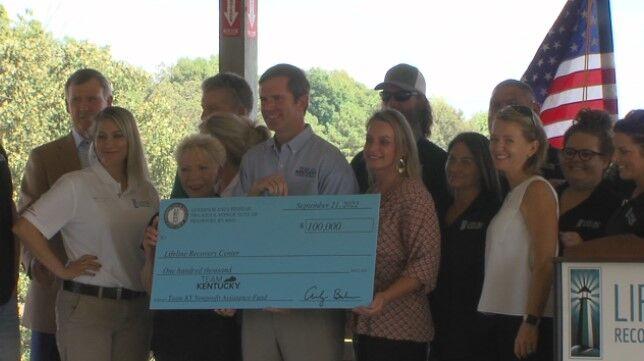 KEVIL, Ky. (WSIL) -- Kenny Vasseur thanks God everyday for sending him a lifeline: The Lifeline Recovery Center.
"This program helps you get back on your feet as far as getting a job," Vasseur said. "It helped me get in touch with my family.
Vasseur began drinking heavily shortly after college and later progressed to marijuana and pills.
"That lasted about 10 or 12 years. Then I tried meth for the first time," Vasseur said.
That was six years ago. Today, Vasseur says he's in a much better place and that's thanks to help from Lifeline and his faith.
"It have me the confidence I need and the tools to stay sober," Vasseur said.
Since 2004, Lifeline Recovery Center has helped thousands of people kick their drug addicting habits by providing 'Christ-centered solutions', according to executive director Ashley Miller.
"Kenny's [story is] just one of the hundreds of people that we help on an annual basis and its stories like his that keep me coming back every single day," Miller said.
The group had operated out of an old homeless shelter that sits on a hill in Paducah, Kentucky that didn't provide the space necessary to grow.
Over the summer the group purchased a 46-acre property, named 'The Ranch', and now use it as a facility to help men addicted to drugs.
The Ranch, located in Kevil, features two dormitories, recreational areas, homes for current and former clients, ponds, a kitchen and a chapel.
Gov. Andy Beshear stopped to the visit the group for the second time in 13 months, his first visit to The Ranch.
Beshear presented the group with a $100,000 grant, funded by the Team Kentucky Non-Profit Assistance Fund. Legislation set aside $75 million dollars for non-profit groups that continued offering services during the pandemic.
"I think back to the first year I was Attorney General and we were struggling to find a bed out there for individuals who needed it," Beshear said. "We are closer to what we dreamed about ...That bed is available. We gotta make sure it's available in your region if you're ready to seek treatment."
Lifeline's board chairman Steve Powless says the money will be used to improve programs and hire more staff. Powless says it will also be used to renovate the old facility and covert it into a women's Lifeline campus.