MCCRACKEN COUNTY (WSIL) -- Paducah Public Schools and McCracken County Schools announced changes to masking protocols Wednesday. 
Both districts currently require all students and adults to wear masks while inside school buildings as part of mitigation efforts to prevent the spread of COVID-19. 
The changes come after ten consecutive reporting days below 20.0 (average daily cases per 100,000 population) on the Kentucky COVID-19 current incidence rate map for McCracken County with three reporting days at or below 15.0.*
Based on these incidence rates, the following adjustments will be made to universal masking for McCracken County Schools and Paducah Public Schools:
Masks will become optional for faculty, staff and students
Masks will continue to be required while riding the bus, in compliance with the federal mandate
Masks will continue to be required for students participating in the Test to Stay program
These changes will take effect Friday, October 29 if the criteria are met.
If a student is wearing a mask and is exposed to a positive case at school, the student will not be asked to quarantine. They will be notified and asked to self-monitor for symptoms of COVID-19.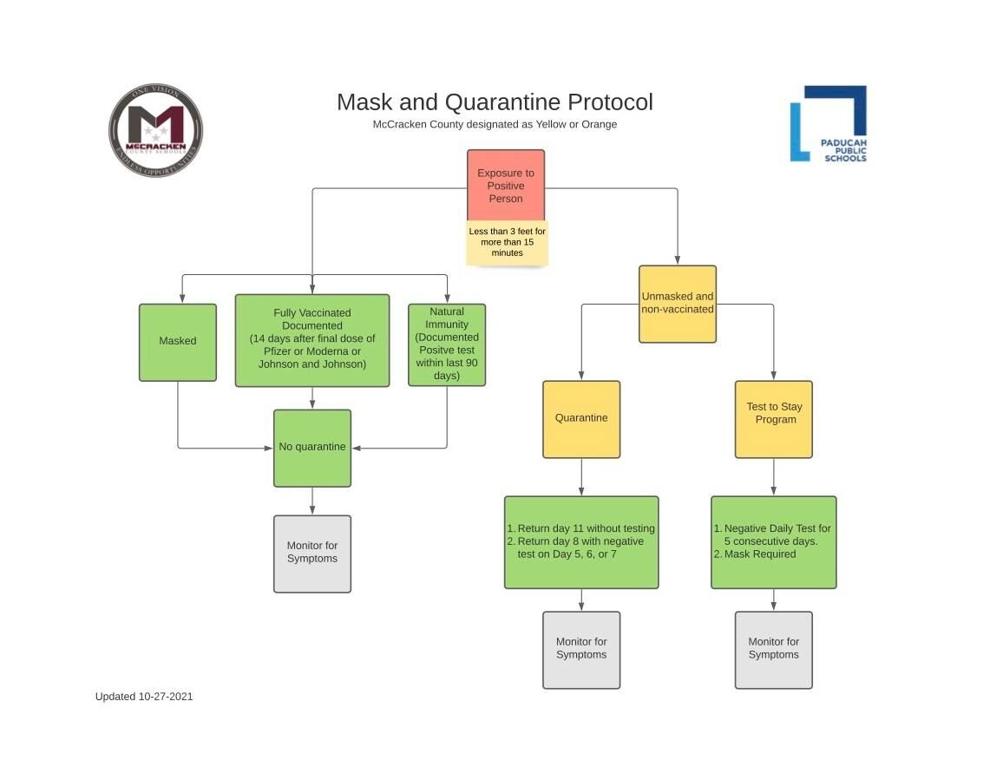 In order to be vigilant in preventing the spread of COVID-19, a committee of local physicians** along with the Purchase Area Health Department will meet each Friday with the superintendents of McCracken County and Paducah Independent School Systems to review the local data on the Kentucky COVID-19 current incidence rate map.
If there are two or more days "in the red" (an incidence rate equal to or greater that 25 per 100,000) for a current week, the local health officials committee will review the potential need to return to universal masking.
Any adjustment to universal masking will be announced by the school systems on Friday afternoons for the following week.
"We've had several meetings with local physicians who have helped develop useful metrics," said superintendent Dr. Donald Shively. "The doctors on the committee are local, they have a variety of specialties, and they have children in our school systems. The doctors on the committee will meet with us each week going forward and we will look at the data to make an informed decision about masking protocols for the coming weeks. The longer we deal with COVID, the more we know. This will help us make better decisions on how to mitigate the community spread of the virus."