CARBONDALE (WSIL) -- SIU is canceling classes Friday and hosting Saluki Care Day. 
Chancellor Austin Lane sent a letter to students that said, 
"Last night the Saluki community gathered yet again this semester to reflect on a life taken too soon. We cried. We laughed. We celebrated a student's impact on our campus. Sadly – and unbelievably – this was the third such loss for our campus community in the last 12 weeks. Additionally, as we're still reeling from senseless acts of off-campus violence that are being investigated and that injured and affected additional students, we are mindful of the significant impact loss, grief and anxiety can have on an individual and a community. Our students need an opportunity to pause to reflect on this combined loss. They need to take time for themselves and to check in on the well-being of their friends and family."
To that end, SIU Carbondale is canceling classes on Friday, November 12 (with the exception of the classes in the School of Medicine). Campus will be open for business.
Students and employees are encouraged to participate in the Saluki Care activities planned for the day. Students can also take advantage of the Counseling and Psychological Services (CAPS) program in the SIU Health Center. The Employee Assistance Program (EAP) is available for faculty and staff.
Chancellor Lane continued in his letter saying, "Take this Friday as a day of rest – an opportunity to reset your mind and your spirit. Do something that helps you relax and take a breath to prepare for the next few weeks so that you can come back well prepared for the rest of the fall semester and the spring semester. In doing so, know that your Saluki community is here to support you. We encourage students to reach out to a mentor such as a faculty or staff member or a fellow student. We are all here for each other.
I want to close by remembering each student by name whom we have lost this semester and invite you to take a moment of silence to reflect on their lives. Many of you knew at least one of them, and some didn't know any of them. Regardless, they were and will remain part of the Saluki family."
Keeshanna Jackson
Joseph Ermel
Jacob Jurinek
Dominik Faciano (May 2021 graduate)
LIST OF SALUKI CARE ACTIVITIES: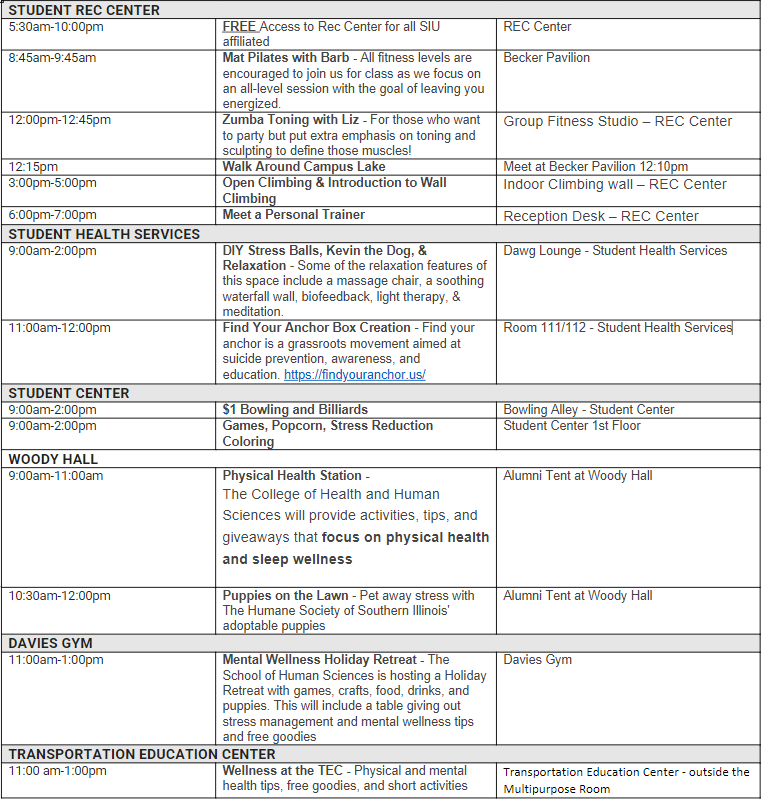 Join the Dawg Pound and cap off Salukis Care day by cheering on the Men's Basketball team against Austin Peay! The game starts at 7pm at the Banterra Center and student's get in free with their student ID.