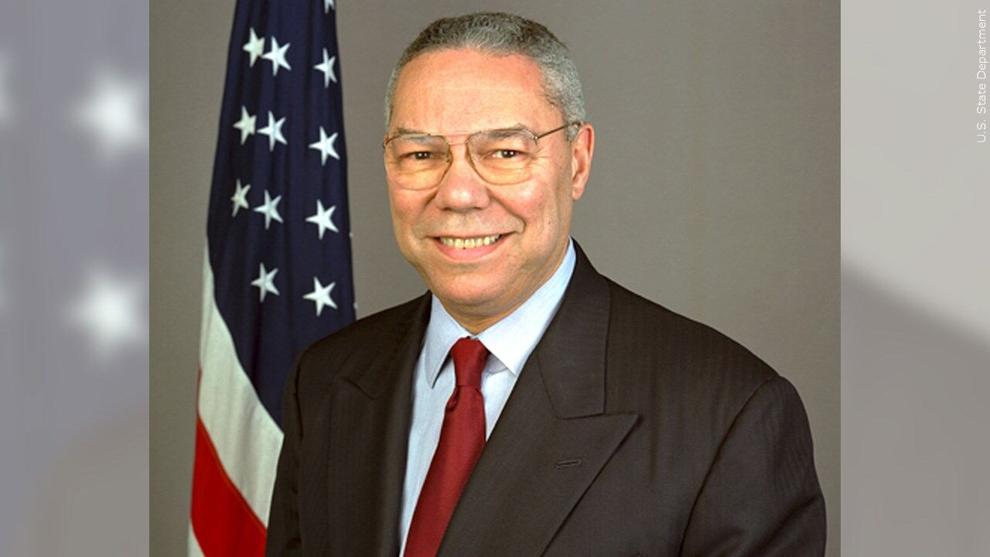 CNN -- Colin Powell, the first Black US secretary of state whose leadership in several Republican administrations helped shape American foreign policy in the last years of the 20th century and the early years of the 21st, has died from complications from Covid-19, his family said on Facebook. He was 84.
"General Colin L. Powell, former U.S. Secretary of State and Chairman of the Joint Chiefs of Staff, passed away this morning due to complications from Covid 19," the Powell family wrote on Facebook.
"We have lost a remarkable and loving husband, father, grandfather and a great American," they said, noting he was fully vaccinated.
Powell was a distinguished and trailblazing professional soldier whose career took him from combat duty in Vietnam to becoming the first Black national security adviser during the end of Ronald Reagan's presidency and the youngest and first African American chairman of the Joint Chiefs of Staff under President George H.W. Bush.
His national popularity soared in the aftermath of the US-led coalition victory during the Gulf War, and for a time in the mid-90s, he was considered a leading contender to become the first Black President of the United States.
But his reputation would be forever stained when, as George W. Bush's first secretary of state, he pushed faulty intelligence before the United Nations to advocate for the Iraq War, which he would later call a "blot" on his record.
U.S. Senate Republican Leader Mitch McConnell (R-KY) released the following statement regarding the passing of Colin Powell:
"America has lost a trailblazing leader with the passing of Colin Powell. It is hard to imagine a more quintessentially American story: A son of Jamaican immigrants who learned Yiddish from his boyhood neighbors in the Bronx becomes a four-star General in the United States Army and serves four presidential administrations, including as National Security Advisor, the youngest-ever Chairman of the Joint Chiefs of Staff, and the first Black Secretary of State.
"As a young officer, General Powell rendered brave and distinguished service on the front lines. As a senior leader, he helped four presidents protect our nation, represent us on the world stage, and chart our course through uncertain and turbulent times that included the dawn of a new century and the beginning of our global war on terrorists who will not leave America alone even if we leave them alone. Today we remember and honor a man who truly dedicated his entire life to serving his country."
U.S. Senate Majority Whip Dick Durbin (D-IL) Monday paid tribute on the Senate floor to Secretary of State Colin Powell.
"But before he held any of those positions, and after he stepped away from them, Colin Powell was always a patriot and a public servant. He was the son of immigrants – Jamaican immigrants who raised their children to make the most of every opportunity that America offered and to show their gratitude to this nation by giving," Durbin reflected. "In 2010, Colin Powell spoke up publicly about a cause that is deeply personal to many people, including myself. He and other military leaders urged the Senate to pass the Dream Act, legislation that would give young immigrants who grew up in the United States a chance to earn their citizenship. Who better to speak to that issue than Colin Powell? The son of immigrants who served this nation with distinction in combat and in public service… Still, tens of thousands of immigrants are risking their lives today defending our nation in uniform. Among them may very well be another Colin Powell. It would be a fitting tribute to Secretary Powell for us to pass immigration reform now, this year."
Illinois Lieutenant Governor Juliana Stratton released a statement on the passing of Gen. Powell saying, "General Powell earned many awards and honors, but above all, we must remember his ideals about service to a country working to be its best, just, and equitable for all residents. His legacy will live on for the best and brightest who join our military and the children of immigrants who will know that great things are possible in this country.
He exemplified what it means to strive for the American Dream and work to ensure others can make their dreams come true, too. May we lean on each other and heal from this incredible loss as a nation by following his lead."