(WSIL) -- Governor JB Pritzker Monday declared gun violence a public health crisis and announced a $250 million state investment over the next three years to implement the Reimagine Public Safety plan, a data-driven and community-based violence prevention initiative.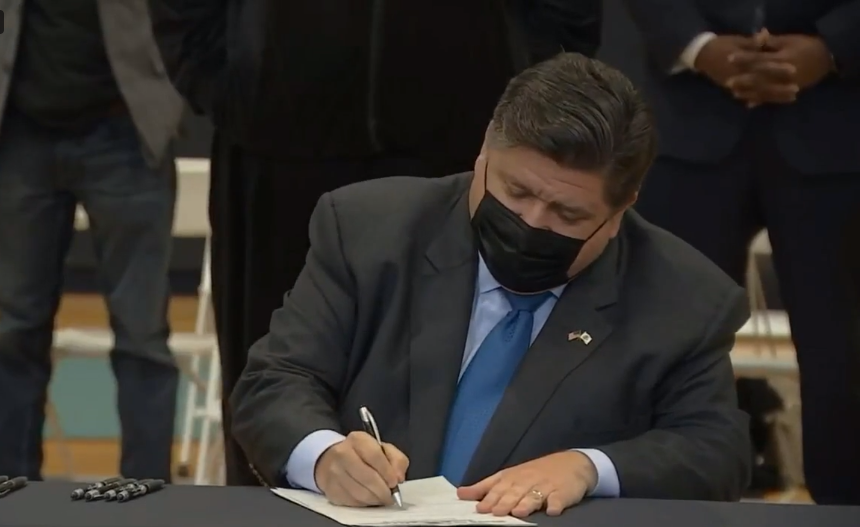 The state will begin issuing Notices of Funding Opportunities for qualified organizations before the end of 2021, with a goal of enabling work to be well underway before the summer of 2022.
"Every neighborhood and every home deserve to be free from violence, and the State of Illinois is making an unprecedented statewide investment in the pursuit of violence reduction through the Reimagine Public Safety Act," said Governor JB Pritzker. "Reimagine Public Safety is an evidence-based and data driven approach focusing on violence prevention, youth development, and the provision of trauma-based services. And we are putting an unprecedented amount of dollars – $250 million – on the ground to see it through."
The Reimagine Public Safety Act (RPSA) establishes the Office of Firearm Violence Prevention (OFPV) to focus on reducing firearm violence in communities with the highest rates of gun violence.
The new resources draw from federal and State funding, including $50 million from the fiscal year 2022 state budget. The administration will work with members of the General Assembly on additional $100 million appropriations in the budgets for fiscal years 2023 and 2024.
Additionally, the Governor issued Executive Order 2021-29, declaring gun violence a public health crisis and launching a comprehensive, statewide approach to reducing gun violence and establishing the Reimagine program. The Executive Order requires relevant state agencies to work with the new Office of Firearm Violence Prevention (OFVP) to address the systemic causes of firearm violence and to develop trauma-informed and equity-based strategies.
The overall violence prevention approach includes four key elements:
High-risk youth intervention programs that have been proven to reduce involvement in the criminal or juvenile justice system, referrals of teens into therapeutic programs that address trauma recovery and other mental health services.  
Violence prevention services, including street-based violence interruption work, emotional or trauma related therapy, housing, employment, job training/placement, family engagement, and wrap-around support services.
Youth development programs, including after school and summer programming to increase school attendance and school performance, reduce criminal justice system involvement, and build social-emotional persistence and intelligence.
Trauma recovery services for young people, funded by Medicaid, designed and implemented by the Department of Healthcare and Family Services, to address trauma recovery from chronic exposure to firearm violence. A team-based model of care will include case management and school support services, group and individual therapy, and evidence-based family systems interventions.
$250 Million in Community-Based Grants
In the coming weeks, the OFVP will announce competitive funding opportunities for grants focused on technical assistance for violence prevention and youth development and intervention. Fifty million dollars in funding has been budgeted for the remainder of the state's fiscal year 22, and $100 million for each of the subsequent two fiscal years will be requested.
ICJIA and IDHS have launched technical assistance and training opportunities for community organizations across the state to apply for funding that will help address factors that contribute to gun violence.
For information on available technical assistance and upcoming funding opportunities, visit the IDHS website at https://www.dhs.state.il.us/page.aspx.
Office of Firearm Violence Prevention
Anti-violence funding will support the enactment of RPSA, which establishes the OFVP within the Illinois Department of Human Services (IDHS) to focus on reducing firearm deaths and injuries in communities with the most gun violence.
To develop sound recommendations on reducing incidents of gun violence, the OFVP is required to identify and work with violence prevention conveners in Chicago neighborhoods with the highest rates of violence. In areas outside of Chicago, the OFVP will form community advisory groups designed to lower firearm injuries and deaths.
Community-Based Violence Prevention and Intervention Action Plans 
The Reimagine Plan aligns with the Illinois Criminal Justice Information Authority's (ICJIA) recently published violence prevention plan, a statewide effort structured on evidence-based strategies and practices and focused on measuring incidents of gun violence across the state and analyzing indicators that can predict acts of violence.
ICJIA's researchers laid out five areas of focus to guide future prevention efforts:
Stop the violence, promote safety;
Support children, youth, and families;
Advance equity;
Support health; and,
Promote collaboration across state, municipal, and community-based agencies.
Executive Order 2021-29
Governor Pritzker issued Executive Order 2021-29 to support IDHS in its implementation of the RPSA.
The newly formed OFVP, established by the act, will coordinate with the Illinois Department of Public Health (IDPH), ICJIA, the Illinois Department of Healthcare and Family Services (HFS), and other relevant state agencies to establish a public health approach to reducing gun violence.
RPSA requires HFS to submit a State Plan Amendment to Illinois' Medicaid program that could result in federal matching reimbursement for some of these services.
"There is no singular solution to ending violence in this state. We have to employ a multi-pronged approach based on equity and collaboration," said Lieutenant Governor Juliana Stratton. "As head of the Justice, Equity, and Opportunity Initiative and as a restorative justice practitioner, I'm proud that the Reimagine Public Safety Act embraces that approach. With this act, we are creating a comprehensive plan that will help us prevent violence in the first place by investing resources in historically overlooked communities and repairing the harm that perpetuates trauma that often leads to violence."
More information about the Violence Prevention Plan is available on ICJIA's website.