(WSIL) -- Copi, that is the new name for Asian Carp in the State of Illinois. 
Following more than two years of consumer research and planning, the state landed on that new name and brand. It's designed to address public misconceptions about the fish, which is overrunning Midwest waterways. 
Copi (choosecopi.com) are mild, clean-tasting fish with heart-healthy omega-3s and very low levels of mercury. Increased consumption will help to stop them from decimating other fish populations in the Great Lakes and restore an ecological balance to waterways down stream.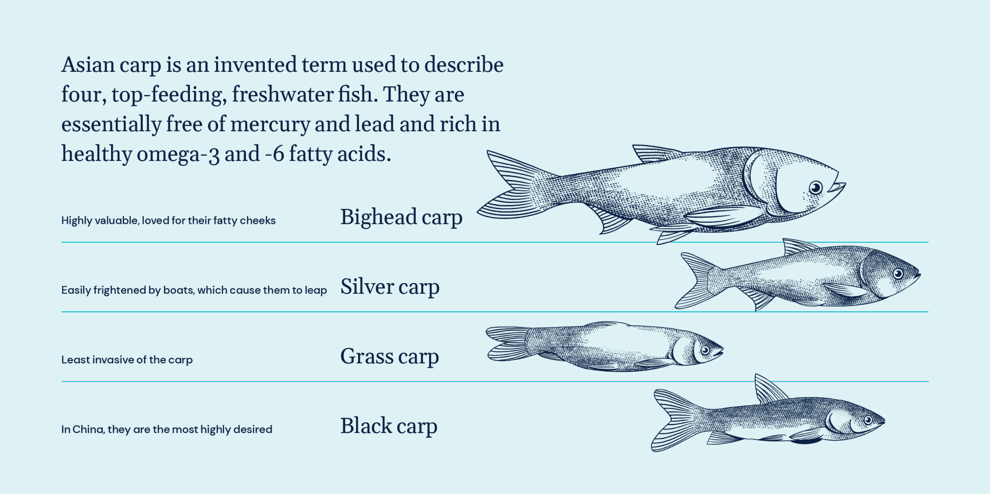 "Enjoying Copi in a restaurant or at home is one of the easiest things people can do to help protect our waterways and Lake Michigan," said John Goss, former White House invasive carp adviser. "As home to the largest continuous link between Lake Michigan and the Copi-filled Mississippi River system, Illinois has a unique responsibility in the battle to keep invasive carp out of the Great Lakes. I'm proud of Illinois, its partners and other states for rising to this challenge."
As part of the new launch, 21 chefs and retailers have committed to putting Copi on their menus or in their stores, and 14 processors, manufacturers and distributors are making Copi products available.
The new name is a play on "copious," a word used to describe the fish.
By one estimate, 20 million to 50 million pounds of Copi could be harvested from the Illinois River alone each year, with hundreds of millions more in waterways from the Midwest to the Gulf Coast.
Changing a fish's name has been successful for other fish. Orange roughy was originally known as slimehead; Chilean sea bass was known as Patagonian toothfish (it's not even a bass); and peekytoe crab was once known as mud crab.
"Copi is a great name: Short, crisp and easy to say. What diner won't be intrigued when they read Copi tacos or Copi burgers on a menu?" said Illinois Department of Natural Resources Director Colleen Callahan. "It's a tasty fish that's easy to work with in the kitchen and it plates beautifully. Every time we've offered samples during the Illinois State Fair, people have walked away floored by how delicious it is."
A list of recommended recipes using Copi can be viewed at ChooseCopi.com, as well as a full list of restaurants and companies selling the fish.
Consumers can purchase Copi at the following in southern Illinois:
Cristaudo's in Carbondale
Chefs and grocers can purchase Copi from the following processors, manufacturers and distributors:
Two Rivers Fisheries in Wyckliffe, Ky. (processor)
Illinois officials will apply to formally change the name with the U.S. Food and Drug Administration by the end of the year.
When sold in grocery stores, the packaging will describe the fish as carp and Copi until federal regulators approve the name change. The state also has applied to register the trademark so that industry groups will be able to develop standards and ensure quality control.