CARTERVILLE, IL (WSIL) -- If you want a little extra cash for your holiday shopping we have a plenty of opportunities listed in this week's Job Squad.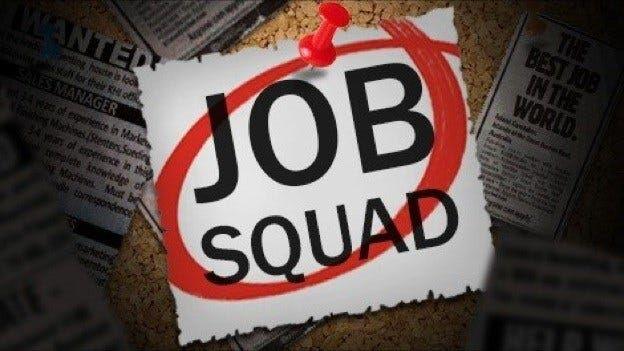 The City of Benton is looking for a full-time Deputy City Clerk. The position also includes Water Clerk, Treasurer's Assistant, and other duties. Applicants will be required to take a drug test, have a background check, be bonded, and become a notary. The Deputy City Clerk must attend city council meetings in the absence of the City Clerk. You will have a probation period of 120-days, and starting pay is $34,000 to $36,000 based on experience and education. Applications and resumes must be returned to Benton City Clerk at 1403  South Main Street in Benton no later than November 17 by 4 p.m.
Auto Credit of Southern Illinois has two full-time openings. It includes an Office Clerk at the Marion location and a Service Writer at the Benton location. Both positions offer a competitive salary and come with benefits. For more information, call (618) 969-8814.
Family Lawn Care has three positions open right now. The business is looking for experienced Snow Equipment Operators ranging from $20 to $28 per hour. Sidewalk clearing crew members are also needed. Pay for this position is $18/hr. The company also needs Snow Plowing Contractors. You must have your own equipment, and pay is $75 to $100 per hour. Serious candidates can apply at 112 Forest Park Drive in Herrin or call (618) 942-3171.
The Illinois Department of Employment Security and Illinois workNet invite Veterans and their spouses to attend the Veterans Virtual Recruitment 2021 Series during Veterans Day week. It will be virtual and includes a panel of employers who will discuss their business sector, provide information on their respective company, and employment opportunities. Two meetings will be available for southern Illinois veterans. The first one is Wednesday, November 10, from 10 a.m. to 12 p.m. participating companies will be Continental Mills, Natural Enrichment Industries, Continental Tire the Americas, LLC, Pepsi Mid America, and General Cable. The second panel will be from 2 p.m. to 4 p.m. featuring panelists from 375th Force Support Squadron, The Martin-Brower Company, Stevens Industries, Inc., and TerraSource Global Inc. Pre-registration is required online at Veteran's Virtual Job Fair Tickets, Multiple Dates at Eventbrite. Make sure your resume is current and posted on illinoisjoblink.com. To view a complete list of jobs and employers click here.