SPRINGFIELD, Il (WSIL) -- Governor JB Pritzker and the Illinois Department of Public Health have recently drawn criticism for the state's updated COVID-19 vaccine plan.
The updated plan, released January 6, puts people incarcerated in Phase 1B, the same group as people 65 and older, along with first responders and teachers, among others.
A previously released vaccine distribution plan by IDPH, dated December 4, appeared to list prison staff and inmates between Phase 2 and Phase 3, but did not assign a phase, only saying "TBD".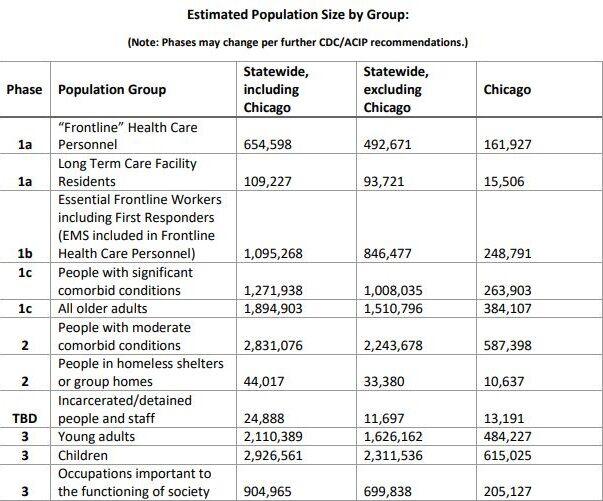 The latest move has drawn sharp criticism from several local lawmakers.
"For months, we've been forced to watch as Governor Pritzker has acted unilaterally in response to the COVID-19 health crisis. Now, with a vaccine rollout underway in Illinois, the people of this state are beginning to see a light at the end of the tunnel. Yet, once again, the Governor has acted without input from legislators, leaving those most vulnerable to COVID-19 months behind others for a vaccine. While all life should be valued, what the Governor is doing is unconscionable. He is prioritizing a healthy, young criminal above those already predisposed to be highly vulnerable to this virus. It is immoral."

State Senator Terri Bryant (R-Murphysboro)
"I am outraged that Governor Pritzker is moving inmates to the front of the line ahead of residents of assisted living facilities and adults with high-risk medical conditions to receive the COVID-19 vaccine. This is unacceptable. I am urging my constituents to call the Governor's office at 217-782-0244 to demand he reverse this irresponsible decision, and put the lives and best interests of our most vulnerable citizens first!"

State Representative Dave Severin (R-Benton)
The Centers for Disease Control and Prevention does not specifically mention which phase inmates should be placed, but they do say "jurisdictions are encouraged to vaccinate staff and incarcerated/detained persons of correctional or detention facilities at the same time because of their shared increased risk of disease."